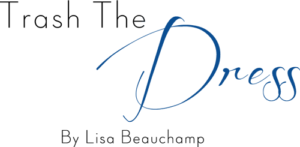 When exactly did tradition change from lovingly storing your wedding dress in a protective cover at your parents' home, to suddenly plunging into the ocean wearing your one-of-a-kind Vera Wang gown the day after your wedding?
According to Julie Corsetti and Irene Corti, photographers for Cayman-based Deep Blue Images, this new tradition known as "trash the dress" has become commonplace over the past five years.
'Brides realize that they aren't going to keep their dress to hand down to their daughter to wear," says Corti. "They see 'trash the dress' as the perfect opportunity to enjoy wearing the dress again, feeling like a princess, and then taking some fun photos while swimming or rolling on the sandy beach with their new husband. The pressure is off. There is a sense of breaking all of the rules and being mischievous."
In Cayman, the options for a trash the dress photo shoot are endless—when, how and where.
Some couples choose to stage the shoot the day after their wedding while their guests are still on island so they can participate in the event, while others choose to do it months after the big day. Overseas brides sometimes return to the island at a later date armed with their wedding dress on a mission to trash it.
There is no shortage of stunning locations involving water in Cayman. Seven Mile Beach is the most popular beach option, with both the sandy beach and the clear blue ocean waters providing excellent scenery for a trash the dress photo shoot. And of course, a chartered tour to Stingray City presents the perfect backdrop for unique photos of the bride swimming with the stingrays. Other options include paddle boarding, jumping off the dock at Rum Point, sitting on the rocks at Smiths Cove, and swimming above star fish at Starfish Point.
If the weather is inclement, there are plenty of swimming pools islandwide which can provide dramatic underwater shots.
Having spent the past 10 years specializing in underwater and above water photography, Deep Blue Images has plenty of experience in assisting couples to achieve the best results from their photo shoots.
"Couples come here for the beautiful blue waters of the Caribbean," says Corti. "It's a natural choice to photograph couples enjoying trashing the dress in the ocean. I have never been asked for anywhere other than in the water."
The underwater photos taken by Deep Blue Images are quite simply breathtaking. Their spectacular photos are achieved due to their expertise having spent years practicing their skills and dedicated hours spent underwater understanding water reflections and lighting. Julie has invested in state of the art camera equipment; while heavy to handle, the benefits speak volumes in the results. Don't expect to achieve the same high quality effects from your best man or maid of honor taking photos with their smart phone encased in a watertight cover.
Irene and Julie prepare their clients in advance about what to expect when posing for photos underwater and offer advice about keeping their eyes open, how to avoid squinting, breathing, and feeling comfortable if swimming with marine life.
"We are women, we understand that women want to look beautiful in their photos," says Irene. "Photos taken underwater can add weight to your physique, so it's crucial that we take photos from the correct distance, the right angle and in a flattering way to capture extraordinary images. We want to make people look their best."
Photo shoots normally take a couple of hours, and they can spend up to an hour and a half in the water with their clients.
The Deep Blue Images photographers enjoy working one on one with a bride and groom, but it's also a lot of fun when friends and family members are involved to create a party atmosphere. They recommend chartering a boat tour to Stingray City which is always a great experience as everyone can participate in swimming and kissing the stingrays. Boat tours can incorporate snorkeling at North Sound, or a visit to the Sandbar and Starfish Point, so there are plenty of photo opportunities.
Selecting a time of day for the photoshoot is an important consideration too, which is best discussed with your photographer. Morning light is best for capturing the bright blues of the sky and the Caribbean waters. Sunset itself will provide you with a picturesque setting of golds and yellows.
If you can't bear the thought of trashing your beloved gown, consider buying an alternative, less expensive dress which will look just as effective and eye catching in the photos. If you are planning to swim in the photo shoot, opt for a style that will flow and amplify underwater; avoid a tight fitting, restrictive design.
This new tradition isn't for every bride. Some brides feel a sense of pride and satisfaction to know her wedding dress is hanging up in the back of the closet, even if it is squashed between winter coats and a Halloween costume. There are memories and nostalgia woven into the silk and threads, which are preserved forever within this single dress.
For our modern brave brides who wish to trash the dress dry cleaning may remove the water stains and sand particles, or the dress may literally be disposed of.
When it comes to your wedding dress, there is no right or wrong; it's your dress and your choice about what you do with it after your wedding day. But, oh just think what a magical experience it would be to jump into the ocean wearing a long white gown without a care in the world. Priceless.